Pena Aventura, along with Quinta de Santa Cristina and NatourTracks , offers you moments of great harmony between nature , wine and adrenaline. A unique experience to discover the north of Portugal, in 4x4 vehicles.
The Vinho Verde is the featured product in this tour. A fruity wine, easy to drink, naturally light and fresh, unique in the world . It's great as an aperitif or harmonization with light and balanced meals.
4x4 Wine Tour
The challenge is to know the north of Portugal in 4x4 vehicles, a real adventure of tasting the flavors of the region at the same time who know some of the secrets of winemaking. To relax and live moments filled with adrenaline, visitors can experience the Pena Aventura fell by Fantasticable or a Segway ride , or slide down the mountain in Alpine Coaster , while leaving captivated by the natural surroundings of Lamelas and Ribeira de Pena .
Includes:
- Local Guide
– Fantasticable + Alpine Coaster (Pena Aventura Park http://penaaventura.com.pt)
– Tour 4×4 (NatourTracks http://www.natourtracks.pt)
– Wine tasting (Quinta de Santa Cristina http://www.garantiadasquintas.com)
Program price for 2 people: 85 €/person
Program price for 4 or more people: 60€/person
Lunch option adds 15€ per person
Special Prices for Groups
Kayak Wine Tour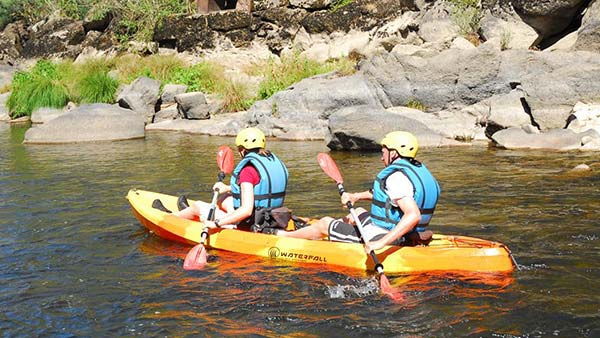 Tearing valleys and mountains, the Tamega River offers ideal conditions for the practice of Kayak . It presents itself as a standing invitation to those who want to enjoy and be inspired by its landscapes or drink traditions of its people.
Come down the river and visit a Fifth producer of Vinho Verde. Here you can taste this nectar and taste the local cuisine delicacies. We will have the opportunity to see firsthand the vineyards and visit the wine cellar where wine is produced.
Difficulty: Easy
Duration: 5h
Period: Morning / Afternoon
Meeting point: Pena Aventura Park

INCLUDES:
– Follow-up Local guide;
– kayak
– Gastronomic and Wine Tasting;
– Transport during or round;
– Insurance;
– Service and VAT included.
EXCLUDES:
– Personal extras;
– Anything not specified as included
* The path in kayak can be changed according to the navigability of the river.
Program price for 2 people: 100 €/person
Program price for 4 or more people: 60€/person
*note: with lunch adds 15€ per person
Special Prices for Groups